REOPENING FOR HOLY MASS

The government require face covering at indoor settings where you are likely to come into contact with people you do not normally meet, such as places of worship. The exceptions are those which are granted for all other situations and include anyone under 11yrs, or those with disabilities, or hidden health conditions such as breathing difficulties, mental health conditions or autism. Please ensure that you have a face-covering with you and to put it on before you enter the church. Please let the stewards know when entering church if you are exempt, as this will make things easier for them and for you.
Before registering to attend Mass: remember, if your health is not good and you are vulnerable, if you have a cough or cold or temperature you should stay at home. Also, if you are awaiting the results from being tested for COVID-19 stay at home.
• If you have been in contact with any known or suspected cases of COVID-19 in the past 14 days, stay at home.
• If you have returned, or been in contact with anyone else who has returned, from overseas in the past 14 days, stay at home.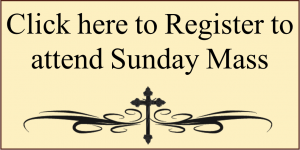 NEWSLETTER 18th Sunday in Ordinary Time 2nd August 2020
Resumption of Holy Mass at Good Shepherd
Frequently Asked Questions (FAQs) – Re-opening of churches for the celebration of Mass
PARISH REVIEW Please see below parish review documents – perhaps you will need a cuppa and a biscuit to help you negotiate the final reports!
Parish Review 2018 Final Report Part 3 Verbatim Comments
Parish Review 2018 Part 2 Appendix A graphs
Parish Review 2018 Final Report Part A Main Summary
Please see below a 'LETTER TO THE CLERGY AND FAITHFUL IN THE DIOCESE OF LEEDS' (together with the copy of the Letter of His Holiness Pope Francis to the People of God) The Bishop has asked that both letters are to be made available this weekend (26 AUG 2018).  LETTER TO THE CLERGY AND FAITHFUL IN THE DIOCESE OF LEEDS  and  LETTER OF HIS HOLINESS POPE FRANCIS TO THE PEOPLE OF GOD