Clarification on the Sunday Obligation – The Bishops, now having reflected on the current situation in England and Wales, recognise that the causes and effects of the pandemic are still present to such a degree that the absolute duty for all to freely attend the Sunday Eucharistic Celebration cannot yet be fulfilled.

Face Coverings compulsory in indoor settings. Hand Sanitiser available for people to use. Congregational Singing to be kept under review. The Communion Rite Sign of Peace remains suspended. REMEMBER if your health is not good and you are vulnerable, if you have any cold symptoms you should stay at home. In all of this, I thank you for the generous way that you have looked after and assisted one another in feeling safe when coming before the Lord in prayer.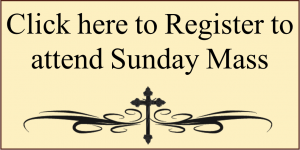 Thank you for choosing to make a donation please click on the button below.

2021 12 19 Newsletter 4 Sunday of Advent and Christmas
NEWSLETTER 
NEWSLETTER 
NEWSLETTER
NEWSLETTER
NEWSLETTER
NEWSLETTER