REOPENING FOR HOLY MASS

It is reassuring to see so many at Holy Mass on Sunday and during the week. Before registering to attend Mass: remember, if your health is not good and you are vulnerable, if you have a cough or cold or temperature you should stay at home. Also, if you are awaiting the results from being tested for COVID-19 stay at home. Please keep visiting the for the latest details  www.gov.uk/coronavirus THIS WEEK'S GOVERNMENT ANNOUNCEMENT in connection with the three-tiered local management control plan for the reduction in the spread of the Covid-19 coronavirus, I can confirm that none of these announcements currently affect places of worship and our ability to use our churches for the celebration of Holy Mass.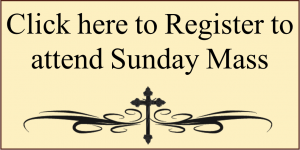 Short Version of the NEWSLETTER
The Mark 10 Mission – Bringing the little ones to Jesus visit www.themark10mission.co.uk
NEWSLETTER 30th Sunday in Ordinary Time 25th Oct 2020
NEWSLETTER 29th Sunday in Ordinary Time 18th Oct 2020
NEWSLETTER 28th Sunday in Ordinary Time 11th Oct 2020
NEWSLETTER 27th Sunday in Ordinary Time 4th Oct 2020
Resumption of Holy Mass at Good Shepherd
Frequently Asked Questions (FAQs) – Re-opening of churches for the celebration of Mass
PARISH REVIEW Please see below parish review documents – perhaps you will need a cuppa and a biscuit to help you negotiate the final reports!
Parish Review 2018 Final Report Part 3 Verbatim Comments
Parish Review 2018 Part 2 Appendix A graphs
Parish Review 2018 Final Report Part A Main Summary
Please see below a 'LETTER TO THE CLERGY AND FAITHFUL IN THE DIOCESE OF LEEDS' (together with the copy of the Letter of His Holiness Pope Francis to the People of God) The Bishop has asked that both letters are to be made available this weekend (26 AUG 2018).  LETTER TO THE CLERGY AND FAITHFUL IN THE DIOCESE OF LEEDS  and  LETTER OF HIS HOLINESS POPE FRANCIS TO THE PEOPLE OF GOD